How to Create a Seller Account on Amazon
As Amazon expands, so do the opportunities to develop an e-commerce business by selling on the site.
In 2022, 63% of consumers began their purchasing searches on Amazon, citing low product prices, free or low-cost shipping, and convenience as reasons for shopping online rather than in-store. More than half of consumers shop on Amazon weekly or more, and 67% shop on Amazon for holiday gifts near the end of the year.
These trends indicate that the year ahead will present a huge opportunity for ecommerce entrepreneurs in 2023. But if you want to take advantage of the many opportunities Amazon offers, you must first go through the Amazon seller registration process.
HOW TO START A BUSINESS ON AMAZON
Amazon is fantastic since there is more than one method to start an Amazon business. There are several ways to prosper on the site, ranging from the business model you select to the things you offer.
However, the processes required to get started on Amazon remain the same regardless of the business model and product you select.
1. Choose the business model you want to use.
Private Label: The process of rebranding or renaming a product under a retailer's brand or label after it has already been made.
Wholesale: Buying low-cost or discounted goods in bulk to resell them as individual items in a retail setting is known as wholesaling.
Online and retail arbitrage: Arbitrage is a strategy for locating cheap or discounted products at real-world retail establishments (or on e-commerce websites) to resell them online.
Drop shipping: Drop shipping is a business strategy in which an Amazon seller sends orders from customers directly to the manufacturer or supplier rather than stocking their goods.
Handmade: Individuals that produce their goods ("by hand") and sell them on Amazon's marketplace are referred to as "handmade" vendors. Examples include jewelry, clothing, house furnishings, and many others.
2. Select the fulfillment strategy you'll employ.
Fulfillment by Merchant (FBM) and 
Fulfillment by Amazon (FBA)
Both approaches have advantages and disadvantages, so carefully consider both to decide which will be most beneficial for your company. However, you are not required to pick one over the other. Both FBM and FBA allow you to complete orders.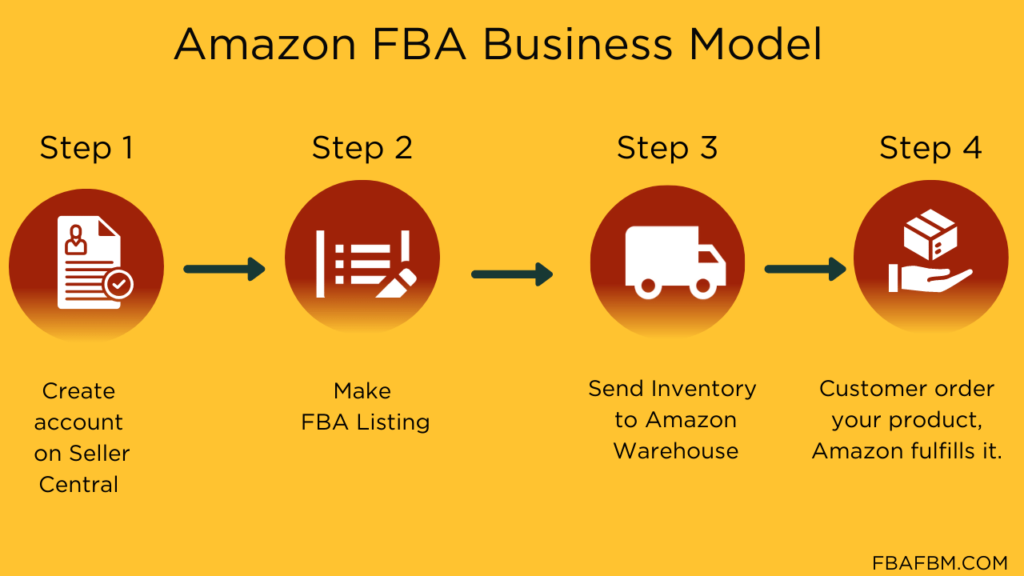 3. Think about the item(s) you plan to sell.
Even if you already have a product, you should still go through this stage to ensure that there will be enough demand for it on Amazon. Make sure you use a tool like Jungle Scout or others to assist you in locating things to offer that are high in demand but low in competition.



4. Apply to become an Amazon seller
More details on how to complete the Amazon seller registration process are in the next section.
5. Start sourcing your product(s)
If you've chosen to sell private label, you can find a manufacturer to create your product by using Jungle Scout's Supplier Database or Alibaba.
6. Create your product listing
And once you create your listing, you can grow your Amazon sales from there!
How to Register for an Amazon Seller Account
Once you've decided what you'll sell on Amazon, you'll need to complete the Amazon seller registration process, which is pretty simple.
Firstly –  Go to https://sell.amazon.com
Secondly – Select on the "Pricing" tab.
Important Note: However, if you click the "See pricing" option, you'll be able to compare the individual and business plans and sign up for the one that best suits your needs.
3. Select between an individual or a professional selling account.
4. Enter your email and select 'Create a New Account'
After choosing the right seller plan, you will be asked in the next window to enter your email address and the password you chose for your seller account.
The next screen will instruct you to enter the verification code emailed to you. Amazon is just checking your email address for legitimacy.
This screen will appear once the correct code has been entered:
To Complete your Registration:
Valid government issued ID or passport
Mobile Phone Number
Recent(Up to 6 Months) bank account or credit card statement
Chargeable credit card