In your mind's eye, I want you to imagine meeting Alex, an aspiring entrepreneur with a knack for graphic design.
Alex had always dreamed of starting his own business but was wary of the risks associated with traditional inventory-based ventures. Then, he stumbled upon Merch by Amazon, an innovative platform that allows individuals like him to sell custom-designed merchandise like t-shirts without the typical inventory risk.
Filled with excitement, Alex set up his Merch account and got down to business. While he didn't have any prior graphic design experience, he was determined to learn the ropes. Backed with free graphic design software like Canva and online YouTube and Helium 10 tutorials, he quickly honed his skills. His first T-shirt design drew inspiration from a trending topic he found on Google Trends, and he couldn't wait to see how it would perform.
Navigating the Amazon Merch dashboard with some effort, he uploaded his designs and selected the products he wanted to offer. While he decided to start with T-shirts, the platform provided a variety of merch products for him to explore in the future.
To give his merch business a boost, Alex started promoting his designs on social media platforms, especially Twitter. He shared his own creations and actively engaged with his growing audience. Some of his Twitter posts even went viral, driving a surge of traffic to his Amazon listings.
With time, Alex continued to upload new designs regularly. While some designs skyrocketed in popularity, others didn't quite hit the mark, but he saw each experience as a valuable lesson. The best part was that he didn't have to grapple with inventory or fulfillment logistics; Amazon expertly handled all of that for him.
Gradually but surely, Alex's merch business gained momentum. He felt thrilled to see his unique designs striking a chord with customers, and his income from Merch by Amazon steadily grew. With his newfound passion and a budding income stream, Alex transformed his graphic design skills into a thriving online business, all thanks to the opportunities offered by Merch by Amazon.
What Is Merch by Amazon?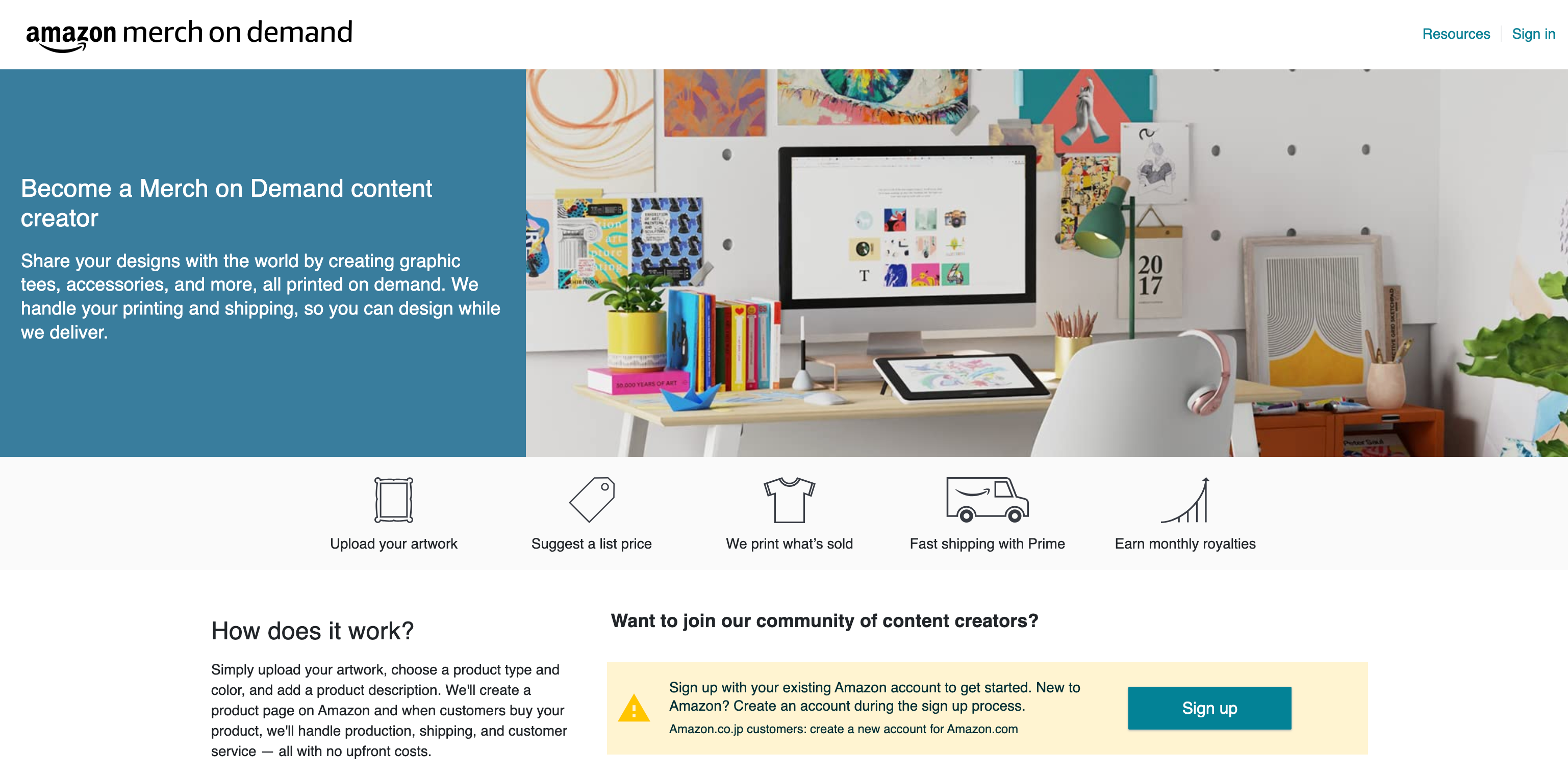 Merch by Amazon is essentially an Amazon-operated print-on-demand platform launched in 2015. Through Amazon's online marketplace, it allows designers and content creators to sell custom-designed merchandise, such as t-shirts and hoodies.
Sellers upload their designs to the platform, and Amazon handles printing, packing, and shipping to customers. Sellers earn royalties for each item sold, without the need for upfront costs or inventory management.
Alex's journey above serves as a shining example of how aspiring entrepreneurs and creative minds can harness the power of Merch by Amazon to turn their ideas into profitable ventures. This avenue of starting an Amazon business empowers individuals to monetize their creativity, reach a global audience, and sidestep some of the usual challenges associated with inventory-based businesses. However, participation in the program is by invitation only, and sellers must adhere to Amazon's guidelines and policies to maintain eligibility and ensure a positive selling experience.
How Does Merch by Amazon Work?
Here's how it works:
Sellers on Merch by Amazon, known as "merchers," engage in a straightforward process to bring their own designs to the market.
These quality designs can span a wide array of themes and niches, from t-shirts to hoodies and beyond. Statistically, novelty t-shirts do well with this route of making a passive income stream online so for now, let's pretend you have unique t-shirt designs crafted and ready for sale.
Your job would then be to upload them to the Merch by Amazon platform using your Merch account.
Be careful in associating each t-shirt design with specific product types, colors, and sizes ensuring that your consumers will have a variety of options to choose from when making a purchase.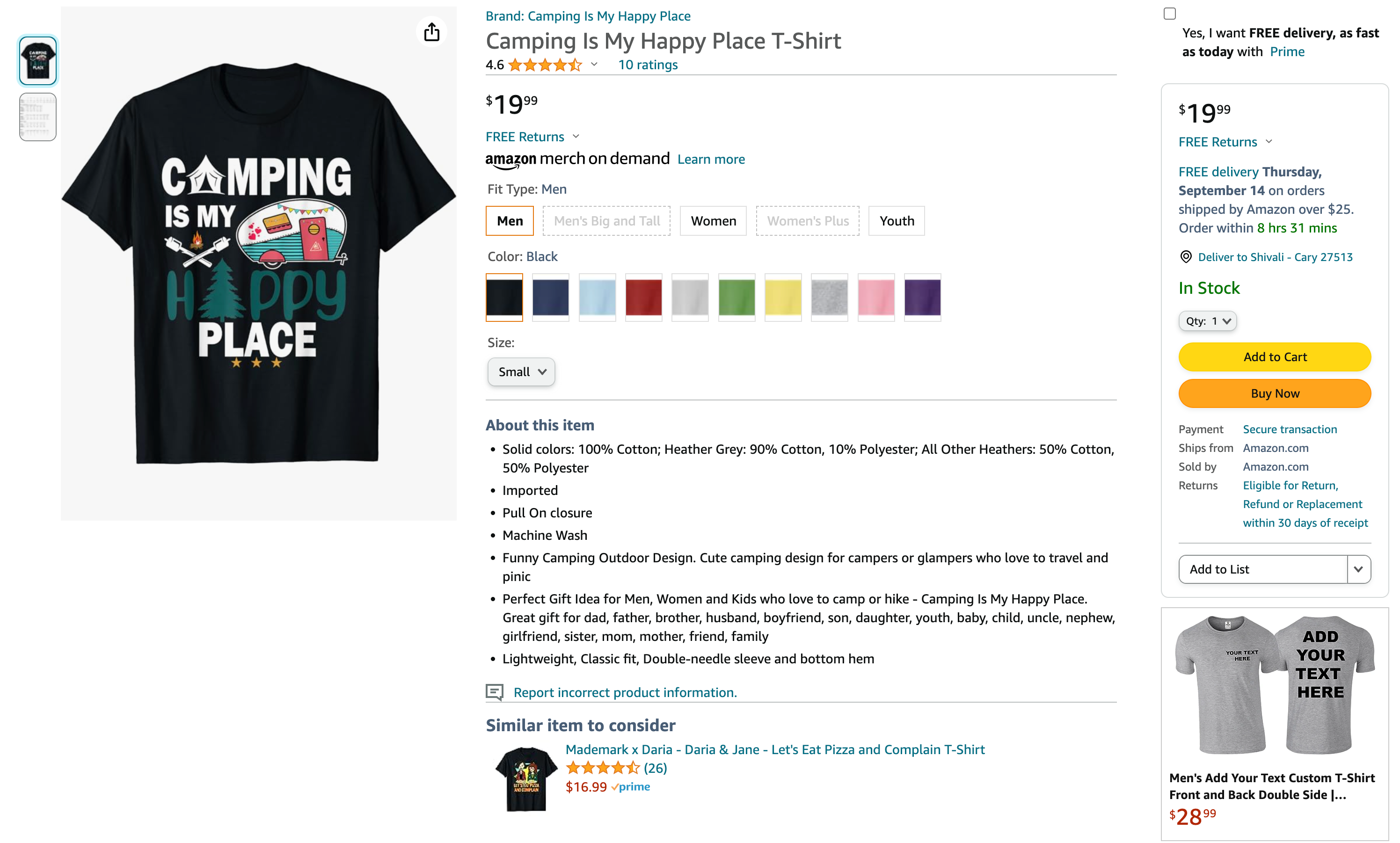 You will also need to suggest a list price. Researching keywords related to your merch products using a tool like Helium 10's Cerebro will help you optimize discoverability.
After the designs are uploaded, Amazon would take the reins to create individual product listings for each design. These listings would showcase your t-shirt designs on a diverse range of products that they can be printed on, making them easily accessible to Amazon's massive customer base, comprising of hundreds of millions of prospective customers.
From my perspective, that is part of the charm of Merch by Amazon. When a customer discovers a t-shirt design they fancy on Amazon's page, they have the freedom to choose the t-shirt type, size, and color that align with their preferences. Once the customer finalizes their choice and makes a purchase, Amazon seamlessly manages the printing, packing, and shipping processes. Sellers benefit from merch royalties or a percentage of the sales price for each item sold.
Check out royalty information here.
Does It Cost Money to Sell on Merch by Amazon?
So profits = royalties, but what about the upfront cost?
Maybe you're wondering "What will it cost me money to sell on Merch By Amazon?"
The good news is it does not cost any money to sell on Merch by Amazon.
Joining the program and creating an account as a seller is entirely free. There is no investment capital required nor subscription fees to participate.
Just to reiterate, as a print-on-demand platform, Merch by Amazon operates on a revenue-sharing model. When a customer purchases a product with a seller's design, Amazon deducts its production and distribution costs from the sale price. The remaining amount, which is the royalty or earnings for the seller, is then paid out to the seller.
This model makes it accessible for content creators and designers to start selling their custom merchandise without the need for any initial investment. It also means that sellers do not have to worry about inventory management, printing, or shipping costs, as Amazon handles these aspects.
What Percentage Does Merch by Amazon Pay?
Since Amazon deducts its production and distribution costs before disbursing the earnings to the seller compensation structure for merchers, this zero inventory model allows sellers to earn without worrying about stocking or shipping.
According to Merch by Amazon, "You earn a royalty on every product sold. Your royalty is based on your product's purchase price less any applicable tax, and less Amazon's costs. Amazon costs include materials, production, fulfillment, customer service, returns, exchanges, and resources required to detect and prevent fraud. Fulfillment costs include picking and packing your product when a customer orders it and shipping your product to the customer—including shipping for Amazon Prime and Free Shipping eligible orders."
While Amazon adeptly handles product listings and the entire fulfillment process, sellers also have the option to independently promote their t-shirt designs. By engaging in marketing and sales efforts, sellers can actively contribute to driving more sales and expanding the reach of their unique designs. Utilizing tools like Google Trends can further help you identify trending themes and keywords related to your niche.
Additionally, Merchers can use their graphic designer skills to create eye-catching visuals and effectively target their audience to boost conversions and secure additional royalty earnings.
With that said, I'm sure you're well aware of the several benefits Merch by Amazon offers to sellers by now including no upfront costs, access to Amazon's massive customer base, and uncapped passive income potential. However, participation in the program is by application only, and sellers must adhere to Amazon's guidelines and policies to maintain eligibility and ensure a positive selling experience.
How Does Merch by Amazon Pay You?
Merch by Amazon pays sellers through electronic funds transfer (EFT) or direct deposit to their bank account. Sellers must meet a minimum payment threshold (around $100 USD) and payments are made 30 days after the end of each calendar month. Sellers need to provide their banking information and tax details for payment processing.
How Profitable Is Merch by Amazon?
The profitability of Merch by Amazon varies based on account tier, design quality, niche selection, marketing efforts, and competition. Some achieve significant profits, while others may have more modest earnings. Success requires dedication, creativity, and adaptability to market dynamics.
Are There Product Limits for Merch by Amazon?
That sounds wayyy too good to be true. Sure, there's an application process. But no fees to apply and no upfront payments required to start selling the product? What's the catch?
Well, there are product limits for Merch by Amazon. When sellers first join the program, they start with an account tier that determines how many designs they can upload and sell. As sellers make sales and meet certain performance criteria, they can advance to higher tiers with increased product upload limits. The tiers are as follows:
Tier 10: This is the starting tier for new sellers. Sellers in this tier can upload and sell up to 10 designs.
Tier 25, Tier 100, Tier 500, Tier 1,000, and so on: As sellers make sales and meet specific performance thresholds, they move up to higher tiers, which allow them to upload and sell more designs. The upload limit increases with each tier.
What Are the Requirements for Merch by Amazon?
Invitation: Merch by Amazon operates on an application-only basis. You need to sign up to join the program, and not everyone may be approved. Amazon may review factors like background, goals, designs, etc. before extending an invitation.
Account Eligibility: To participate in Merch by Amazon, you must have an active Amazon seller account. If you don't have one, you'll need to create a seller account and provide the necessary information to get started.
Design Guidelines: Your designs must comply with Amazon's content policy and design guidelines. These guidelines ensure that the designs are original, high-quality, and meet Amazon's standards.
Intellectual Property Rights: You must have the necessary rights to use and sell the designs you upload. Using copyrighted or trademarked material without permission is not allowed.
Tax Information: Sellers are required to provide tax information to comply with tax regulations. This is typically done through Amazon's tax interview process.
Product Upload Limits: As a reminder, sellers start with a tier that determines how many designs they can upload. As sellers make sales and meet specific performance criteria, they can move up to higher tiers with increased product upload limits.
Do You Need an LLC for Merch by Amazon?
No, you do not need to have an LLC (Limited Liability Company) to sell on Merch by Amazon. You can participate in the program as an individual seller without forming a separate legal entity like an LLC.
Is It Easy to Get Accepted Into Merch by Amazon?
Getting accepted into Merch by Amazon is not always easy, as the platform operates on an application basis and reviews a multitude of factors before acceptance.
Selling Merch by Amazon varies in ease depending on design skills, platform knowledge, and marketing efforts. Applications must be accepted to join, and success requires dedication and an understanding of niche selection and target audience. Passive income potential exists, but it necessitates ongoing efforts for success.
However, a level of exclusivity is to be expected of a platform that commands the attention of millions of users. You can refer to Merch by Amazon's Best Practices and our submission section below to have the best chance to upload designs.
How Do I Submit an Application to Merch by Amazon?
The process to join Merch by Amazon involves submitting a request for an invitation. Here's a step-by-step guide on how to apply:
Begin by logging in. Go to the official Merch by Amazon website and log in with your current Amazon seller account.
If it's your first time with Merch by Amazon, you'll be asked to fill out a series of logistical information (whether you are applying as an individual or corporation, your address, your banking information, tax information, etc.). Fill this information out truthfully as it will contribute to their evaluation of whether or not you can sell online.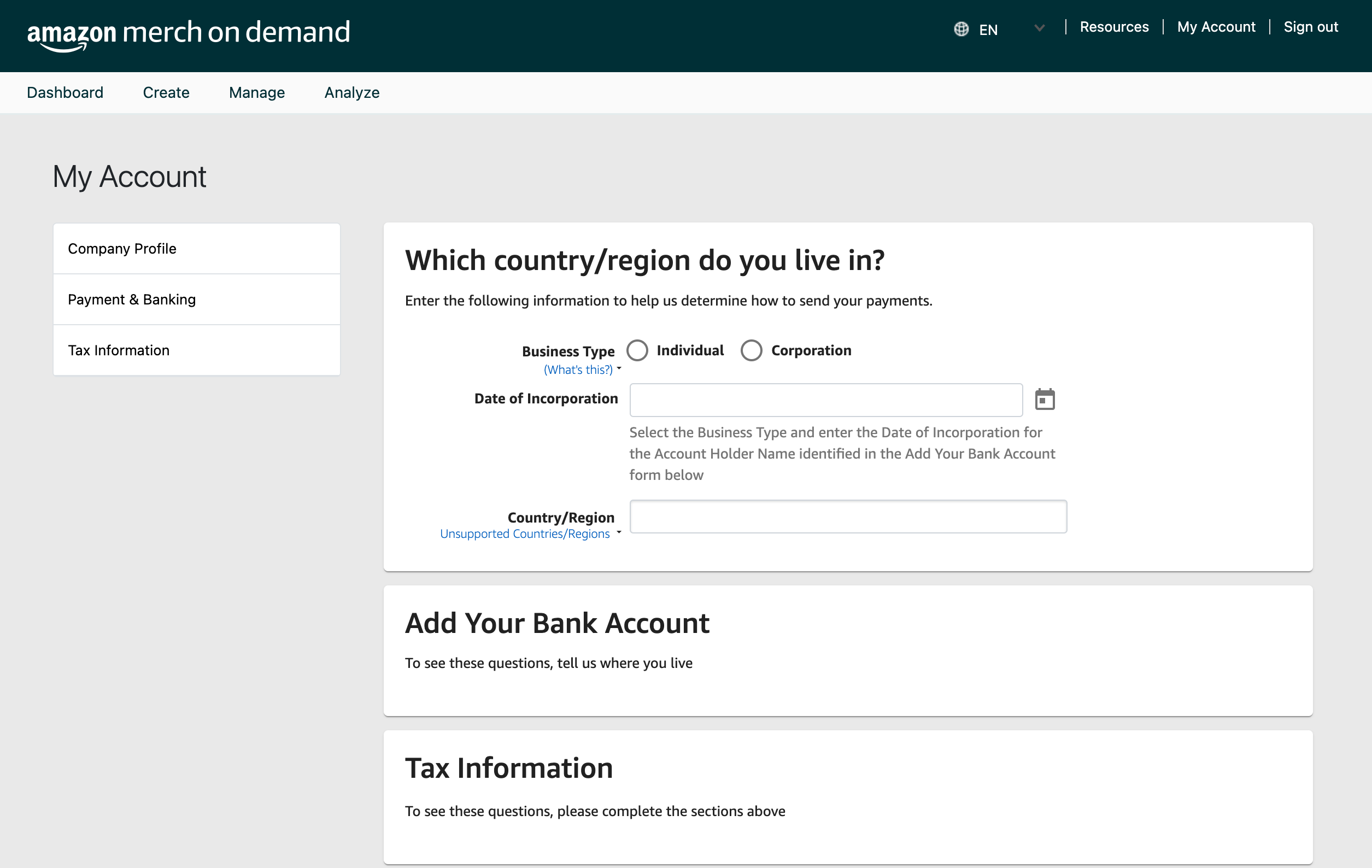 Use the additional information field to differentiate yourself, share a little bit about who you are, and validate why you're qualified by sharing your successes if you have some experience on other platforms or other avenues and how you plan to bring external traffic to Amazon (even if you just plan to promote on your socials). After all, what company doesn't love expanding?
Perhaps you are a designer in the real world. Tell them that and do your best to present to Amazon what you have to offer and why you are becoming a "mercher" will prove valuable for them.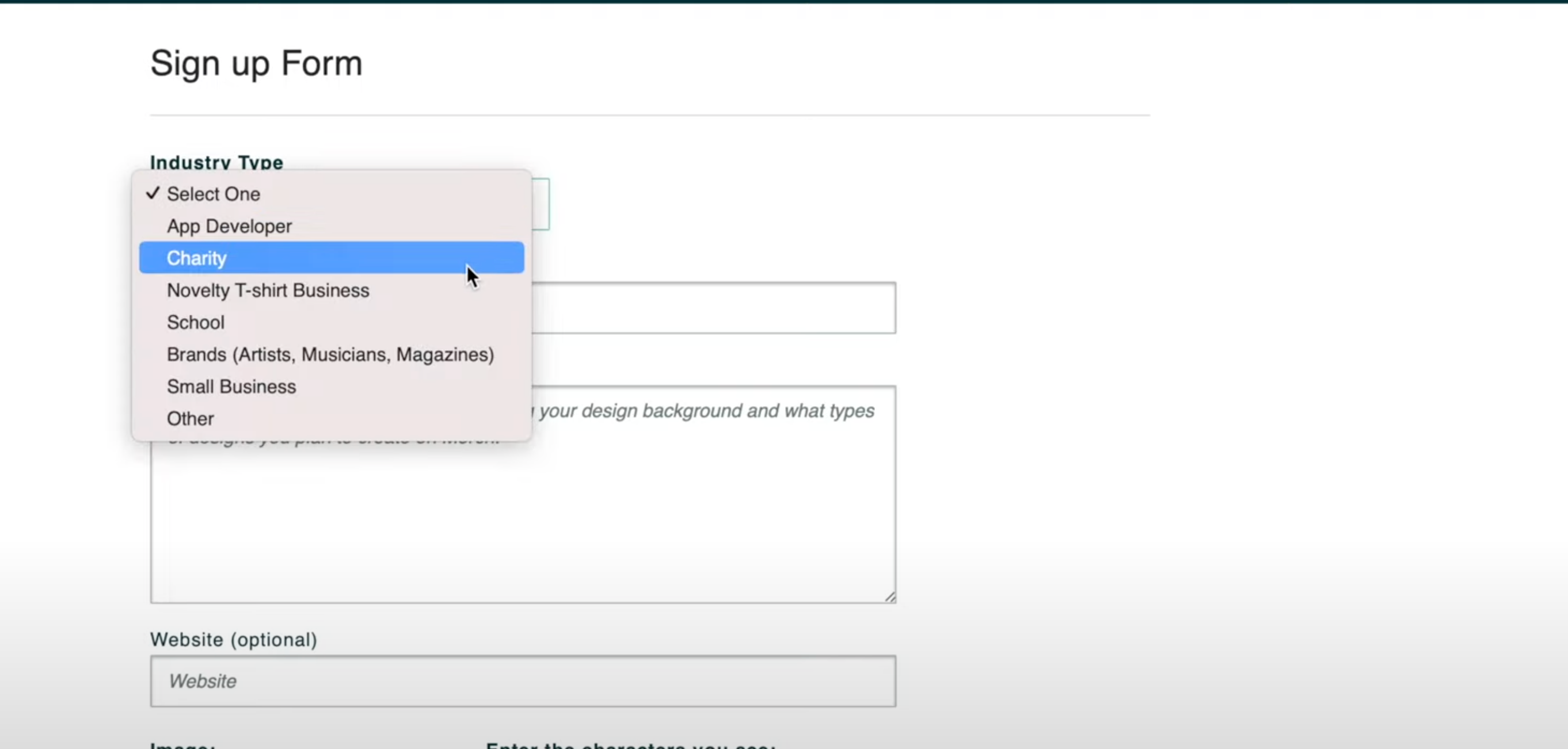 If you are just starting to dip your toes into the proverbial print-on-demand pool and don't know what to choose for "industry type," a lot of people have success with novelty t-shirt business so that is a good place to start. Of course, if you're an artist or already fall into one of the other branches, that is okay too. And in the case you are in the boat of reapplying, avoid mentioning that in your application.
Read through the terms and conditions presented, which summarize your understanding of not infringing on trademarks or copyrights of other parties you and agree to the Merch by Amazon terms and conditions.
Make sure you understand the policies and guidelines for selling on the platform and ensure you are using proper grammar and professional language in your ask.
After you've completed your application and agreed to the terms, submit your request application and wait for Amazon's review. Approval times can vary, and not everyone may receive an invitation immediately. Some sellers might receive an invitation shortly after applying, while others may need to wait for an extended period or reapply at a later time.
How Long Does It Take To Get Approved for Amazon Merch?
The time it takes to get approved for Amazon Merch is relative. Some applicants might be accepted to join Merch by Amazon shortly after submitting their request, while others may need to wait for an extended period or reapply at a later time.
The approval process depends on various factors, including the current demand for new sellers, the quality of your designs, and how well your application aligns with Amazon's requirements. Amazon may review applications in batches, so the timing of approvals can be unpredictable.
What Products Can I Sell on Merch by Amazon?
Merch by Amazon offers a variety of products that you can sell with your custom designs. The primary products available on the platform include:
Standard T-Shirts: Basic short-sleeve t-shirts in various colors.
Premium T-Shirts: Higher-quality, premium fabric t-shirts with more color options.
Long-Sleeve T-Shirts: T-shirts with long sleeves, suitable for cooler weather.
Sweatshirts: Crewneck sweatshirts for casual wear.
Hoodies: Hooded sweatshirts, often preferred during colder seasons.
Popsockets: Phone grips with various design possibilities.
Tank Tops: Sleeveless tops for warmer weather.
V-Neck T-Shirts: T-shirts with a V-shaped neckline.
How Good Is the Quality of These Products?
It is not a one-size-fits-all bill across the board.
To determine the quality of products on Merch by Amazon, you should consider:
Printing Method: Merch by Amazon uses direct-to-garment (DTG) printing, which involves printing designs directly onto the fabric of apparel products. DTG printing is known for producing vibrant colors and detailed designs.
Fabric Quality: The quality of the fabric used for apparel products can impact the overall feel and durability. Amazon offers different product tiers, including standard and premium shirts, which may alter your fabric quality so choose wisely.
Customer Reviews: Customer reviews and feedback on individual product listings can serve as a looking glass into the overall quality and satisfaction level of buyers.
Product Variants: Different product types (e.g., t-shirts, hoodies, etc.) and colors may have slightly different qualities due to variations in fabric and printing techniques.
Can I Use a Celebrity's Likeness on Merch by Amazon?
In accordance with Amazon's Content Policy, Amazon cannot make, sell, distribute, or promote items that infringe the intellectual property rights (including copyright, trademark, and publicity rights) of a third party, including celebrities. This means that you should either have obtained a license or otherwise received permission from any third party whose intellectual property you wish to use with Amazon Merch on Demand. This applies to not only product design, but also the product name, the product description, the bullet points, and the "brand" name you select.
For example, as Amazon put it, "You must have clearly documented permission to use a person's name, likeness, or image in an Amazon Merch on Demand design. This permission is important if the person is a celebrity, but is necessary for anyone. So don't use Taylor Swift's name, picture, or likeness on an Amazon Merch on Demand design, product name, brand name, keyword, or product description unless you have express documented permission from Tay Tay."
Read more here about the rights that protect these properties, and the legal consequences that you can incur when you violate them.
How Do I Find the Products That Sell Best on Merch by Amazon?
You can use Helium 10's Black Box.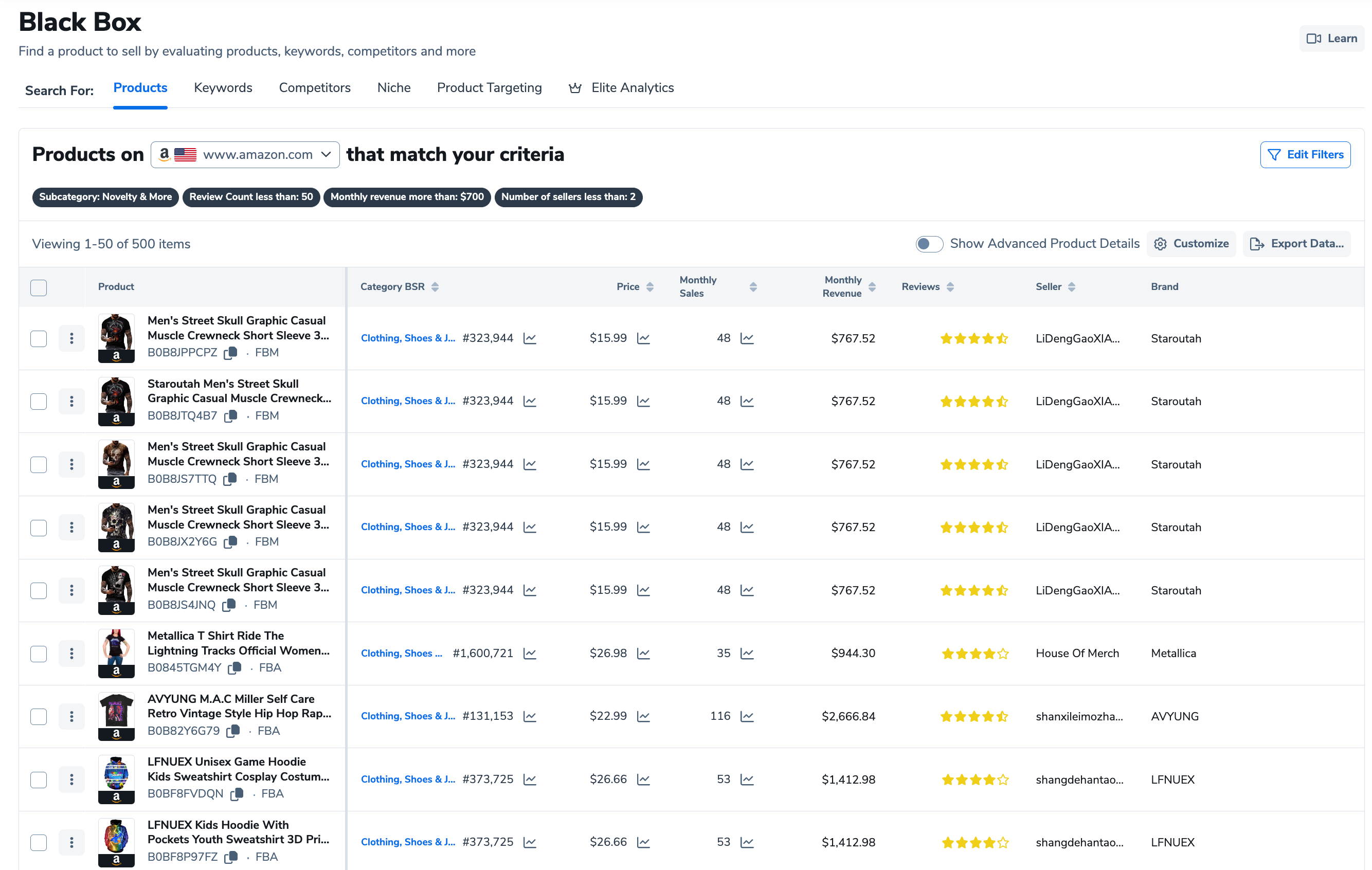 Just go to the Products tab and input in filters. Since many Merch by Amazon sellers opt to sell novelty t-shirts, I selected Novelty & More alongside a max review count of 50, minimum monthly revenue of $700, and less than 2 seller count.
As you can see from the screenshot, I received a handful of t-shirt listings in return that I could potentially consider working with a graphic designer to improve and sell as my own merch product or even design on my own via Canva, Adobe Illustrator, or another design software.
How Can I Outsource Product Design Work?
Being in business does not demand you be great at everything, but it gently nudges you to focus on your strengths and the things you love and let others do the same for you in return. Take some time to sit down and identify the parts of your business where you feel outsourcing work may prove more beneficial. It could be specific design needs, whether it's graphic design, typography, or even niche research. Establish a budget that aligns with your goals and expectations, keeping in mind that higher-quality design work may require a more substantial investment, and then explore potential design partners through platforms like Upwork, Freelancer, or design agencies that offer comprehensive services.
When evaluating potential candidates, carefully review their portfolios and profiles, paying close attention to their experience with print-on-demand products and adherence to Merch by Amazon guidelines. Effective communication is paramount, so be sure to articulate your project requirements clearly, including file formats, design specifications, and any unique guidelines. Request quotes or proposals from your chosen designers, comparing pricing, turnaround times, and the level of detail in their proposals.
Before committing to a long-term partnership, consider starting with a small project or requesting a sample design to assess the quality of their work and alignment with your brand's style. Negotiate terms, and payment schedules, and establish a clear contract to protect both parties' interests. Once the collaboration begins, provide constructive feedback on received designs to fine-tune the results. Regularly review the designs to ensure they meet your standards and adhere to Amazon's guidelines, as consistency is crucial for maintaining your brand's image. As your trust in your chosen designer or agency grows, you can gradually increase the volume of work you outsource to maintain quality and consistency as your business expands.
How Do I Upload a Design to Merch by Amazon?
Access the Dashboard: Once logged in, you'll be taken to the Merch by Amazon dashboard.
Click "Create" or "Start New Design": Look for a button or link that says "Create" or "Start New Design." Click on it to begin the design upload process.
Choose Product Type: Select the product type you want to apply your design to (e.g., standard t-shirt, hoodie, popsocket, etc.).
Upload Design: Upload your design file in the appropriate format and size. Merch by Amazon accepts PNG files with transparent backgrounds and specific pixel dimensions.
Add Details: Fill in the necessary details for your design, including the title, brand name, description, and keywords. Use relevant keywords to improve the discoverability of your design on Amazon.
Select Colors: Choose the colors that you want to make available for your design on the selected product type. You can choose from a range of available colors.
Set Price: Decide on the price you want to list your design for. Remember to consider both your royalty rate and what customers are willing to pay.
Submit for Review: Review all the information and details before submitting your design for review. Make sure your design adheres to Amazon's content policy and design guidelines.
Wait for Approval: Once you submit your design, it will go through Amazon's review process. If approved, it will be listed for sale on the Amazon marketplace.
How Long Does It Take Amazon Merch to Approve a Design?
The approval process typically involves a review of the design to ensure it complies with Amazon's content policy and design guidelines. There's no set time it takes for Amazon Merch to approve a design.
For some sellers, the approval process may be relatively quick, and their designs could be approved within a few hours or days. However, for others, it might take longer (like 6 months), and the approval process could take several days or even weeks. The exact time it takes for approval depends on factors such as the volume of design submissions, the complexity of the review process, and so forth.
How Do I Optimize My Merch by Amazon Product Listing?
Just like you would do for a private label or arbitrage Amazon listing, optimizing your Merch by Amazon product listing is about providing your Amazon customers with the most complete understanding of what they will be receiving when customers buy your merch product.
Create a clear, engaging, and relevant title that includes keywords to accurately describe your design to help you index and rank. You can reference your primary competitors in your niche, and do a reverse ASIN search using Cerebro to find all the keywords that are helping them showcase their awesome (or not-so-awesome…) designs in front of ready-to-buy consumers.
Then, be intentional with the space you have in your listing by crafting informative bullet points to highlight the key features and benefits of your design with the keywords you found using our keyword research tool. In the description, provide more details about the design, its inspiration, and any unique selling points.
High-resolution images that showcase your design clearly from different angles can assist in providing a better understanding and user experience of the product.
Select product colors that complement your design and are popular among your target audience. Offering a variety of colors can appeal to a broader range of customers, but offering too many can lead to analysis paralysis. How many times have you been in a store where there are too many options that you simply can't decide and end up buying nothing at all? You don't want that to happen to your customers after they've discovered your Amazon listing. Instead, you want to convince them to purchase so you can rake in Amazon royalties.
Have a pricing strategy. Set your price competitively while considering your royalty rate and customer expectations. Research what similar products are priced at to find a competitive balance and use social media platforms to promote your designs and engage with your target audience. Social media can drive traffic to your Amazon product listing and as I mentioned before, Amazon loves external traffic.
The rest is standard. Positive reviews can boost your product's credibility so always encourage satisfied customers to leave feedback on your product listing. And regularly monitor your product's performance and sales data to make informed decisions about your product listing and make necessary adjustments.
Check in on Amazon's content policy and design guidelines when possible as it is updated from time to time and non-compliance could lead to your listing being removed or your account being suspended.
And always adhere to Amazon's content policy and design guidelines. Non-compliance could lead to your listing being removed or your account being suspended.
How to Succeed in Merch by Amazon
Success in business is like shooting to find all the right puzzle pieces and putting them together. The best advice we can give is to split-test often and try different things based on the data you collect over time. Some puzzle pieces you'll want to spend time on:
High-Quality Designs: Create original, eye-catching designs that resonate with your target audience. Invest time in refining your skills and producing unique artwork.
Niche Selection: Identify profitable niches with dedicated audiences. Focus on specific themes to attract passionate buyers.
Optimize Product Listings: Write compelling titles, informative bullets, and keyword-rich descriptions. Use high-resolution images and offer appealing product color options.
Promote Your Designs: Leverage social media and other marketing channels to drive traffic to your product listings. Engage with your audience and build a loyal following.
Research Trends: Stay updated on design trends and customer preferences. Create designs that align with current demands.
Pricing Strategy: Set competitive prices that balance your royalty rate and customer expectations. Consider offering discounts during promotional periods.
Request Reviews: Encourage customers to leave reviews for your products. Positive reviews can boost credibility and attract more buyers.
Monitor Performance: Track sales data and analyze trends. Use this information to make data-driven decisions and optimize your offerings.
Expand Product Range: Diversify your portfolio with a variety of designs and product types. Offering a broader range appeals to different customer preferences.
Adhere to Guidelines: Comply with Amazon's content policy and design guidelines. Avoid violations that could lead to listing removal or account suspension.
Consistency, continuous improvement, and adaptability are key to success on Merch by Amazon. It may take time to build momentum, but by focusing on quality, marketing, and customer engagement, you can increase your chances of thriving on the platform.
I'll End with This
As the biggest e-commerce platform out there, Amazon is an amazing place to sell print-on-demand products because there is already such a large pool of people who are very comfortable with the process of shopping on Amazon.
With such name recognition and success, Amazon tends to be one of the more exclusive platforms in terms of who they accept and the hoops you will have to jump through to sell on their site. It will require serious dedication, innovation, and a deep understanding of your target market.
But in my eyes, it is absolutely worth it.
Merch by Amazon offers an opportunity and outlet for artists, designers, and sellers alike to turn their creative passions into a thriving online business.
Take action on the steps outlined in this excerpt and you will be well on your way to navigating the invitation process, creating captivating designs, and optimizing your product listings to attract a broader audience.
Happy selling!
FAQs